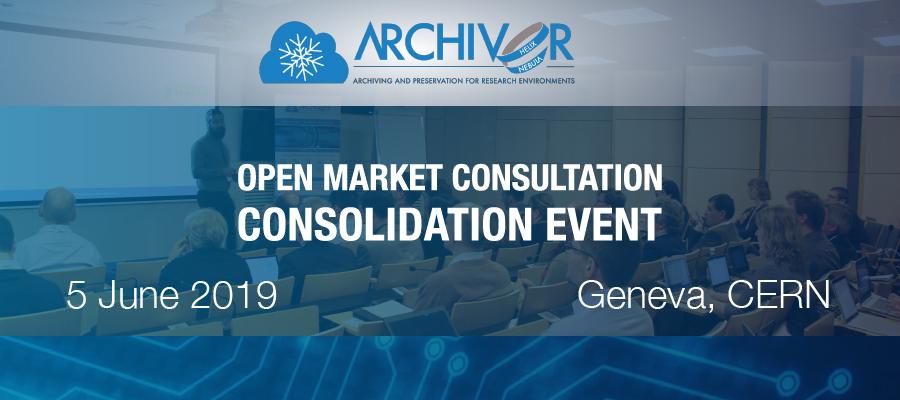 EVENT DESCRIPTION
The Open Market Consultation Consolidation event is organised by CERN and targeted to potential bidders and end-users of the resulting services of the project.
During this event, the results of the various initiatives part of the Open Market Consultation will be presented and discussed.
The results obtained on the Open Market Consultation will serve as a base for the Tender specifications to be published in October 2019.
AGENDA
The event will start at 12.30 pm (CET) with a welcome coffee. Presentations will start at 13.00 (CET) and end at 17.00 (CET). 
Registration and Welcome Coffee 
Project Update
DESY / XFEL Deployment Scenarios 
Summary of the Deployment Scenarios 
Tender Requirements
Overview of the EOSC
Wrapping Up and Next Steps
PRESENTATIONS & RECORDINGS FROM THE EVENT
LIVE WEBCAST 
Click HERE to access the live webcast of the event
FIND YOUR PARTNERS
The R&D objectives of the ARCHIVER tender are challenging and the project team encourages companies/organisations to combine their skills and resources to form viable consortia to achieve the results. The ARCHIVER team is making available rooms in the morning of the 5th of June to allow potential bidders to meet in the aim of building consortia for the ARCHIVER Tender.
Click HERE to ask for a room !
VENUE
CERN, Espl. des Particules 1, 1217 Meyrin, Switzerland
HOTELS NEARBY:
Click here to access the list of nearby hotels
Event type: