ARCHIVER is using a Pre-Commercial Procurement (PCP) approach to competitively procure R&D services from firms in three stages covering design, prototyping and pilot, over the next 3 years (Jan 2019 - Dec 2021).  Click here for more information about the PCP process. 
What will be procured
Under this PCP, Research and Development ("R&D") services are procured by public research organisations to develop hybrid end-to-end archival and preservation services, cost-effective for data generated in the petabyte volumes with high, sustained ingest rates (1-10 Gbps per day).
The innovative solutions developed will address the following challenges: 
- Hybrid Model where research groups retain total ownership of their data
- Petabyte data volumes and high, sustained ingest rates
- Network Connectivity & Federated Identity Management
- Conformity with the OAIS reference model
- Transparent Business & Deployment Models
How it will be procured
Tenderers will be selected through an open and competitive procurement process. Framework Agreements for the delivery of the R&D services will be awarded to the selected Tenderers (the Contractors). This PCP will proceed in three phases:

Solution Design: establishment of a written detailed design report including architecture and technical design of components.

Prototype Implementation: build prototypes, including all components, and make them accessible to the Buyers Group. During the prototyping Phase, basic functionality tests will be performed by IT specialists from the Buyers Group.

Pilot Deployment: deployment of expanded pilots. Further testing, including on scalability and robustness, will be performed and a range of demanding applications will be deployed. Service payment models will be explored.
Each phase of the PCP will be competitive.
Tender Timeline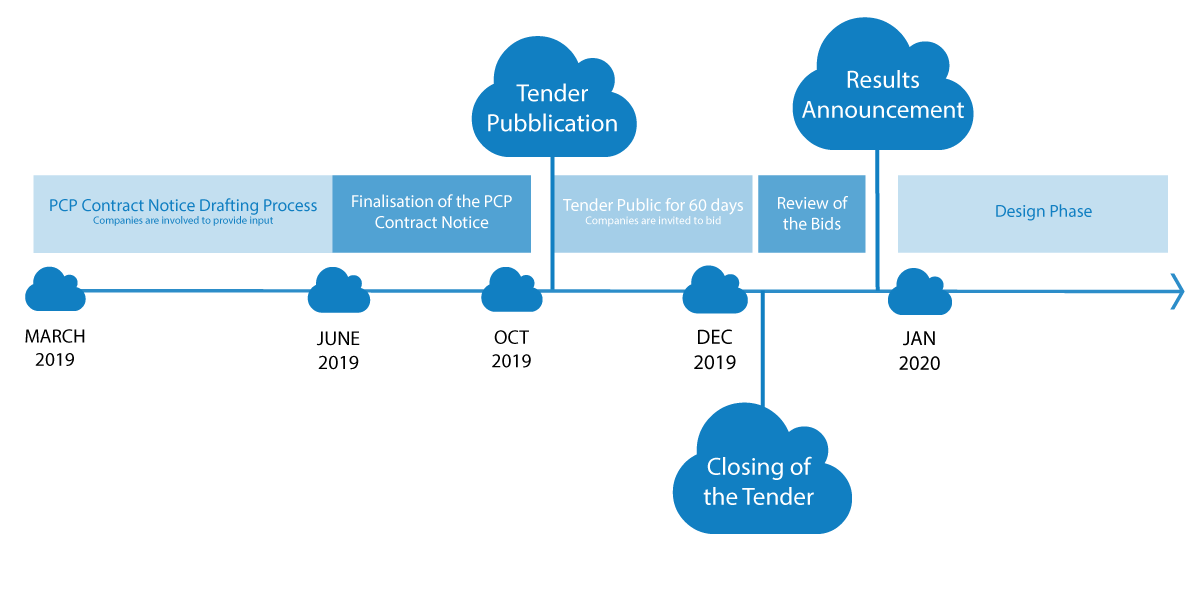 Disclaimer: this timeline is for information only and is subject to change
Tender Documents Drafting Process
To stimulate an open dialogue with companies interested in the ARCHIVER project, the draft Tender documents are made publicly available. Potential bidders are invited to consult all Tender documents.
Organisations that have subscribed to the ARCHIVER Early Adopters programme and experts, such as the Digital Preservation Coalition, will also be consulted on the Tender Documents.
Access the Draft Tender Documents
The ARCHIVER consortium does not guarantee that your comments will be taken into account.
For questions related to the ARCHIVER PCP project, please refer to our the FAQ.